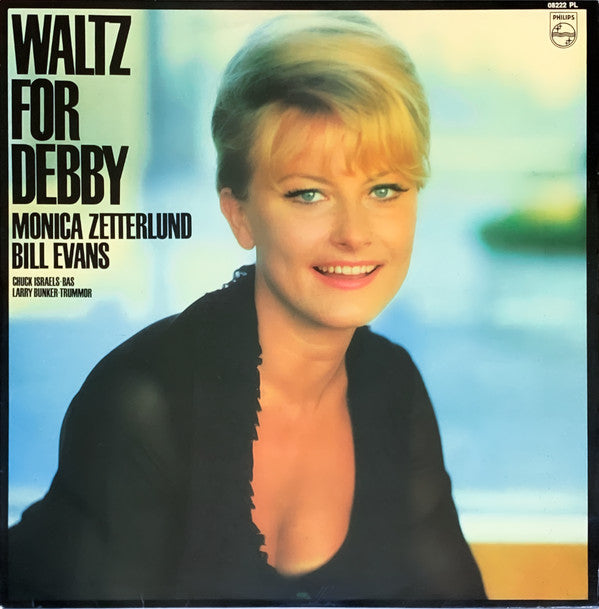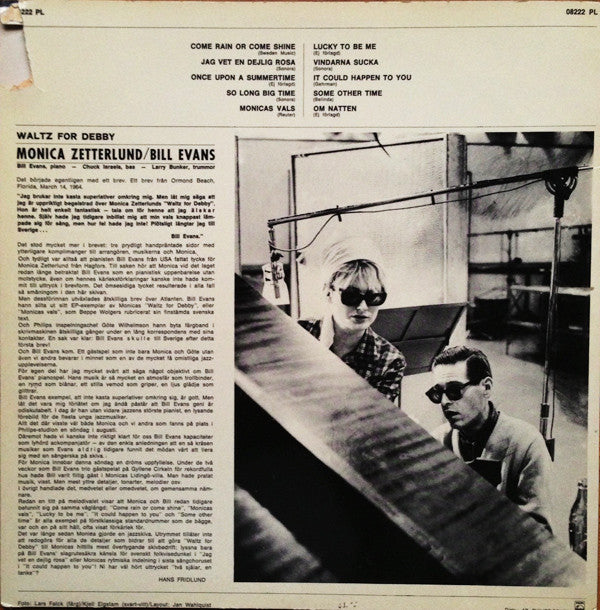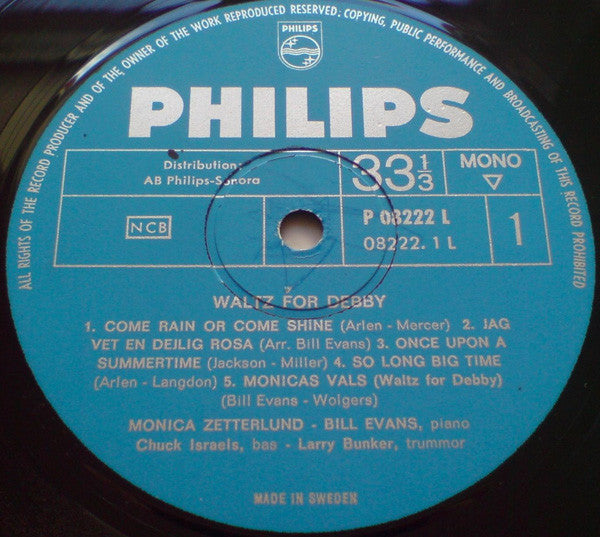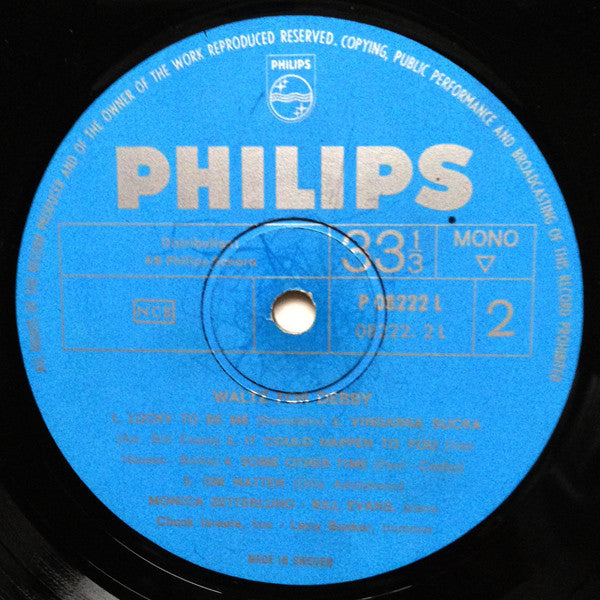 Monica Zetterlund / Bill Evans
Waltz For Debby
Images do not represent this specific copy, images provided by Discogs
Very Good (VG)
Very Good Plus (VG+)
Pickup available at Hökens gata 10
Usually ready in 1 hour
Monica Zetterlund / Bill Evans ~ Waltz For Debby
Hökens gata 10
Pickup available, usually ready in 1 hour
Hökens gata 10
Djungel & Jazz
116 46 Stockholm
Sweden
+468373999
Monica Zetterlund / Bill Evans ~ Waltz For Debby
Product type: Second Hand vinyl
Comments: Visually in VG condition. But plays fine, with occasional quiet pops and clicks. Small rip on back. Otherwise a very nice VG+ cover. Feel free to ask for photos!
Media Condition: Very Good (VG)
Sleeve Condition: Very Good Plus (VG+)
Record Label: Philips
Format: Vinyl, LP, Album, Mono
Country: Sweden
Release Year: 1964
Genre: Jazz, Funk / Soul, Pop
Stil: Vocal
Release ID: r1944831
A1. Come Rain Or Come Shine
A2. Jag Vet En Dejlig Rosa
A3. Once Upon A Summertime
A4. So Long Big Time
A5. Monicas Vals (Waltz For Debby)
B1. Lucky To Be Me
B2. Vindarna Sucka
B3. It Could Happen To You
B4. Some Other Time
B5. Om Natten

When you buy second hand vinyl records from Djungel & Jazz, you should always feel secure in our grade and comments of the product's condition. Normally we do not sell vinyl records where the grade of the media is below VG condition, however, we can sell sleeves with a slightly lower grade, with the argument that you don't listen to the sleeve.
The majority of our records are visually graded. In many cases, we also listen to the record, and you will find our verdict on the condition of the vinyl record in the comments. If necessary, we wash the disc in our ultrasonic washer and place it in a new antistatic inner sleeve.
We always try to mention the details and deviations that are essential to know about each individual vinyl record. Please read the comments for the rationale for our grading of the specific vinyl record.
Below is a brief explanation of how we grade vinyl records and record sleeves. Should a record be incorrectly graded by us, Djungel & Jazz offers a Grading Guarantee that allows you to return the record and receive a full refund. Please read more about our Grading Guarantee and how to proceed here.
Mint (M)


Absolutely perfect in every way. Probably never played, possibly even still sealed.




Near Mint (NM or M-)
An NM or M- record has probably hardly ever been played and the vinyl will play absolutely flawlessly, without any interference during playback. We are sparing with higher ratings than this, as we believe that no record is ever completely perfect. The record should not show any obvious signs of use.

Possible signs of light handling may be present to the sleeve. An LP cover should not have creases, folds, cracks in the seams, punched holes or other noticeable similar defects.


Very Good Plus (VG+)
A record in this condition will show some signs of having been played and handled by a previous owner who took good care of it. Any defects must be of a cosmetic nature and not affect playback to any great extent. The record surfaces may show some signs of use and may show small wear or very light scratches that do not affect the listening experience.

Slight warps

that do not affect the sound are "okay". The label may have some ring wear or discoloration, but it should be barely noticeable. "Spindle marks" may occur.

Covers and inner sleeves will have some wear, slightly turned-up corners or a small cracks in some seam. An LP sleeve may show slight signs of wear and may be marked by a punched hole, an indentation or a cut corner. In general, if it weren't for a couple of small things wrong with it, it would be NM/M- instead.


Very Good (VG)
Many of the flaws found in a VG+ record will be more noticeable in a VG record. Surface noise can be noticeable when you play it, especially in soft passages, during the intro and fade-out of a song, but will not

overpower the music otherwise

. Groove wear is starting to show, as well as light scratches that can be felt with a fingernail that might affect the sound.

Labels may be torn from writing or have tape or stickers (or their remnants) attached. The same applies to picture cases or LP cases. However, it will not have all these problems at the same time.


Good Plus (G+) & Good (G)
A record in this condition can be played through without skipping. It may have significant surface noise, scratches and visible groove wear. Although the disc can be played without skips, noticeable surface noise and clicking sounds will certainly occur.

A sleeve or inner sleeve will likely have cracks in the seams, especially at the bottom or on the back. Tape, writing, annular wear or other imperfections will be present.


Poor (P) & Fair (F)
The record may be cracked, severely warped, and cannot be played through without skipping or repeating itself. Djungel & Jazz does not sell records with this rating.

The sleeve is probably water damaged, torn along all three seams or heavily damaged by wear and writing. The LP sleeve barely holds the LP inside. Inner pockets are torn, wrinkled and scribbled.


Generic


The term Generic is given to album covers that have no printing. Mostly solid black or white. Sometimes with a hole showing the records label on both sides.
Discogs ratings
Feedback from customers
Cant find a better seller! Top notch!
Amazing seller who goes above and beyond for their customers!! Highly recommended!! Thank you again!!
Great communication, very fast shipping, arrived in perfect condition and interesting bonus on top of that! Thanks!
I was very impressed with the meticulous and conservative grading. The records were exactly as described, or better.
These albums were near mint with very nice covers. Also, the shipping was quicker (even though it came from overseas) than a lot of US sellers. Recommended!
Excellent communication and grading. Will be happy to buy again from this seller.
Quick response, good communication and the best services in Sweden. 5 Star Seller.
Fast service, well-packed product, media in excellent condition (just as told)! Great seller!
Fast shipping, record exactly as described, great seller!
Super fine shop, great communication and a free record on top of it :D best service ever! 100% Thank you!!!
Fantastic seller - Everything as promised and very fast shipment